No matter where his celebrated works bring him—Manila, Hong Kong, Indonesia—for Ronyel Compra, his artistry inevitably draws him back home. Hailing from Bogo City, nearly a hundred kilometers away from the Cebuano capital, the return trip isn't always easy, figuratively as it is physically.
Known for his bold experimentation and outputs, many of the indigenous materials Ronyel uses are unconscious remnants of his younger years. The twigs and earthen media featured in his work may be unconventional, but their significance spills past the canvas: they bring out the playfulness of his roots.
A Balance of Reflection and Recreation
The surprising launchpad of Ronyel's creative process? "I honestly procrastinate," he admits with a laugh, adding that it's both fun and a "source of suffering."
However, his non-routine involves a great deal of reflection as well, which he does when completing non-creative tasks. Incorporating these errands into his creative process makes them seem like a lot less work and gives him more to ruminate on.
"Maybe [these errands] are just part of the whole thing towards an output," he contemplates, "or maybe this is totally the output in itself."
With his laidback aura and easy sense of humor, it's not hard to envision the levity that Ronyel imbues into his work. Getting over humps, though, requires more than high spirits.
"I'm trying to be more practical with my strategies as an artist," he shares. "I try to notice what is working and what isn't . . . and create a new space somehow."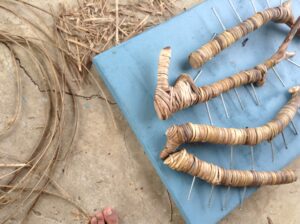 Bridging the Space between Art and Play
Space is a recurring theme in the past few years of Ronyel's craftsmanship. "Space . . . the bridge between me and the subject as the space." To him, being inspired by his subjects and their communities is part of his inclination toward personal histories. "It's about connecting," he says.
One such undertaking revolved around his interest in communal spaces, wherein he installed basketball rings at waiting sheds and wharfs around his hometown. Though a number of these rings were destroyed by many-a-bored townsfolk, several pictures are imprinted on the moss-colored tapestry he's brought to the interview.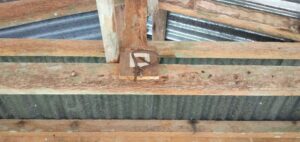 Ronyel recalls how taxing it was to constantly travel back to Bogo as he was finishing his thesis at the University of the Philippines Cebu in 2008. Over time, creative projects like his basketball ring installations have allowed him to transcend the boundaries of his life then and his career now.
"I didn't expect na mao to siyay mo-bridge sa akong practice throughout sa short span sa akong art career to akong childhood," he muses.
[I didn't expect that that would be the bridge between the short span of my art practice and my childhood.]
For now, art is Ronyel's home, no matter the back-and-forth between Cebu and Bogo. "It's so much like kana nga cliche na you're so connected to the place kay you're home, and every movement is like you're so connected to it. . . . Wala ray mo-come out na feeling na mo-try kog escape."
[It's so much like the cliche, that you're so connected to the place because it feels like home, and your every movement is connected to it. . . . I don't have the feeling of trying to escape.]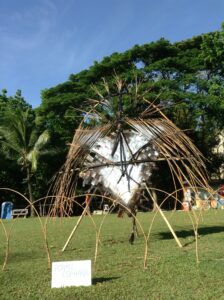 Ronyel continues his exploration into the "poetry of space" through his signature exhibition at Tubô Cebu Art Fair 2022. Several of his acrylic and sublimation prints will be displayed in the physical fair from September 16 to 18, 2022. Tubô will also be running an online art sale from September 11 to 18, 2022.